Welcome to our unique solution for the busy, modern couples who want a one-stop wedding package that offers an intimate, romantic and a beautifully designed wedding without the traditional fuss.
So, you're looking for a unique wedding experience, but you don't know where to start with the planning process… orrr maybe, you don't even have the time to get started or to spend hundreds of hours on the planning process.
Picture this: the chaos of the planning process when you are already busy with work or a tight schedule, back and forth emails trying to get quotes without going over budget, unclear timelines, endless decisions to make, and uncertainty about how to even bring your vision to life.
Needless to say, it's all causing you so much confusion and stress.
And honestly, you're not even vibing with the whole traditional wedding scene.
I totally hear you.
That's where we come in! INTRODUCING: SIMPLY WED!
Simply Wed weddings are a suite of beautifully curated small weddings that offer a one-stop solution.
This all-inclusive package takes all the stress out of planning your wedding. Simply select your date and time right on our website, confirm your details, Simply Wed!
It all starts with a simplified and streamlined wedding planning process so that you can get the full wedding experience without the full wedding expense, stress, and uncertainty.
In less than ten minutes you can book the wedding you've been dreaming of – beautiful, effortless, intimate, and a high value for your investment – and skip straight to the celebration!
 Imagine the HUGE weight lifted off your shoulders (instantly) when you realize that you have already achieved more than half of the planning by booking your wedding today!
Ready to skip the stress and embrace the simplicity and high quality you deserve? Book your wedding today!
Why choose our Simply Wed package?
Choose your Adventure!
We currently offer our signature Simply Wed package at this exceptional venue.
Check out the pre-selected dates and time slots as well as the design options below!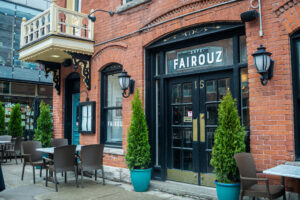 Fairouz Café (Ottawa, ON)
About Fairouz Cafe
Fairouz Cafe is a modern Middle Eastern Cafe and Restaurant in the heart of Ottawa's historic Byward Market. This stunning and unique 𝘨𝘦𝘮 is the perfect setting for your Wedding with its charming ambience.
With the warm summer breeze, this wedding venue is the perfect backdrop for a truly intimate and elegant celebration. Picture your beautiful ceremony on the back patio where your closest friends and family are gathered. Soft music plays in the background as you and your beloved exchange vows.
After the ceremony, you and your guests make your way into the beautiful main dining room for a family-style dinner that will enchant your senses. The food is a delicious culinary experience full of flavor and spice. Everywhere you look there are candles and soft romantic floral touches, creating an elegant, yet cozy and relaxed atmosphere while you enjoy every bite of the delicious cuisine.
The warm and inviting atmosphere at Fairouz Café combined with the amazing and professional vendors make this the dream wedding you've always wanted.
Available Simply Wed Dates & Design Concepts
Available Simply Wed Dates:
Sunday, May 26, 2024 | Pastel Harmony Design
Sunday, June 23, 2024 | Classic Elegance Design
Included in your Simply Wed wedding package:
The Wedding Planning Process
Book Your Date
Secure your wedding date and time slot by submitting the form below with the initial $1,000 payment to hold your date and time slot.
Contracts & Payments
You will receive your vendor contracts for signing and make initial payments within 10 days of booking.
Invite Your Guests
Obtain your marriage license and tell your guests when and where to attend your wedding.
Simply Wed
Let our team handle the rest. All you need to do is get ready, show up to the venue with your fiancé/e, and Simply Wed!
Join the Waitlist
Join the VIP Waitlist to be notified when new Simply Wed dates and concepts are released and get early access to book your preferred wedding date & time!
Frequently Asked Questions
What is Simply Wed?
Simply Wed weddings are all-inclusive pop-up small weddings. It has all the elements of a traditional small wedding but the convenience of pop-up weddings. And just as with a pop-up wedding the date, venue, vendors and decor are shared between the two weddings on each date. The weddings will be at different time slots.
How long is a Simply Wed wedding?
Our Simply Wed weddings give you 4 hours exclusive use of the venue. Once your wedding date and time is secured, we will share a more detailed timeline. You also have the option to purchase an additional hour!
Can we do a first look?
Absolutely! We strongly encourage doing a first look and there will be time for you and your fiancé/e to do a first look before your wedding ceremony.
Can we choose the music?
Yes of course! You will be able to make all the music selections!
What is a singing Officiant?
Edward Dottin (aka Dr. Hitch) is an award winning Musical Director and Lead Vocalist of BLuSouL. He prides himself on being different from other Officiants by giving his couples the option of having him sing during the ceremony. Your choice of song.
What does the design upgrade add-on include?
The Simply Wed package already includes silver flatware, dinnerware, glassware and standard linen. The design upgrade add-on give you the ability to customize your table setting with your choice of black or gold flatware, napkins and table cloth colour. We will walk you through the design selection!
What is the cancellation policy?
Any cancellations must be done in writing, and any deposits or other payments made are non-refundable.
How much do Simply Wed weddings cost?
The cost of each Simply Wed wedding is dependent on the day, and your selection of add-ons. Our booking form below will give you an accurate estimate of your cost as you fill out the form.
What is the payment structure?
An initial $1000 retainer is required to book your date. Followed by 50% within 10 days of booking your date. The remaining balance is due 14 days before your wedding date. Payments are made directly to your vendors.
Can we choose our own vendors?
The wedding vendor list for Simply Wed weddings is handpicked by Golden Apple Events and cannot be changed. If you would like to include your own wedding vendors, we recommend choosing our Full Wedding Planning package instead.
What is included with the engagement session?
An engagement session includes:
Up to an hour of coverage
All professionally edited digital images (typically 30-70)
Time to edit the final gallery of images
Online Downloadable Gallery
60 Kilometers of Travel to location of choice from Almonte
The engagement sessions are scheduled during the week only. Typically, about an hour/hour and a half before sunset for the prettiest light.
What is included in the videography package?
The videography add-on package includes a 4 – 5 minute highlight video. You will also get a single angle video of the ceremony + speeches.
Take the next step in your wedding planning